Connect with your social network account
Just watched Jan Beta slap a Meanwell rd50a psu in his Mega ST, has anyone tried this with a STE? Will crack open and measure up the space to see if one will fit in my STE.
---
If I've managed to fit RT-65B (but without it's case), so the smaller RD-50A should easily fit... I've already ordered it and I'll check this soon. I've ordered from a local distributor (TME.EU), and there was almost no difference in price with Aliexpress :/ I've paid ~20€ incl. VAT & PP. Quite expensive comparing to low-end ATX 350W power supplies.
---
Got one on order from mouser too, It's cheap enough to take a punt
---
As I've promised - I've tried, and it fits: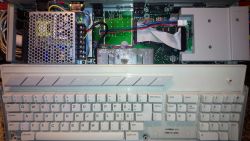 The unloaded 12V is slightly too high (over 13V), but I don't care as it is not used anywhere on the board (it is only for the FDD motor). It fits really tight, but without any modifications, but can be screwed from the bottom using only one of 2 screws as one (left one) collides slightly with the EEPROM chip (in the STf). Only the base plate top mounting "things" have to be bend or cut, so you may lay the PSU on the base plate. I have not connected the PE wire as it is connected via the chassis ground. Yet from the electrical safety point of view it should be connected by wire anyways.
---
Woaw, red leds, one of the early stf(s)!
If i take too long to reply, sorry my cat is sleeping on my laps.
---
Keyboard is not original, I've replaced the LEDs in it, because the case I had has the red filters in it (and green LED + red filter = no go) and actually the board and top case are probably an original pair (bottom part is not), but the original floppy is dead, and I got it without the keyboard (there was a keyboard but broken and a newer model), shields and PSU. Yet my colleague has a fully original 1040STf with red LEDs, TOS 1.00 UK, and "silly" type main-board (REV.D - CPU above the mouse/joystick ports and ROM chips under the PSU). His unit is badly yellowed, but 100% original. My "frankenSTfein" has a retrobrighed cover, but it was rather a fail (only a keyboard came out nice). It was bought as a donor unit, but I've decided to repair it.
---
Sweet, Many thanks Tzok, mine will be here by the weekend
---
If i take too long to reply, sorry my cat is sleeping on my laps.
---
The supply in my STE was pulled from another machine (bought it on eBay, so not sure what model it came out of really) since my unit was a Euro model and I'm in the US, but the Meanwell wouldn't fit without modifying the mount plate and the corner of the Meanwell case near the voltage adjustment pot. I'm not sure who makes this particular supply, It's only identifying marks are: 5657-B001-1, FPK-N3. I was able to make it fit just barely, but due to how it mounts on the mount, I wasn't able to put the RF shield back over the power supply.
Attachments

Unknown power supply
2018-12-02 08.55.13.jpg (3.4 MiB) Viewed 1722 times
---